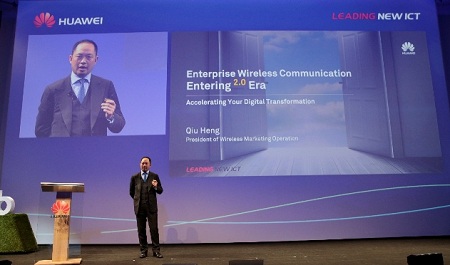 At CeBIT 2017 held in Hannover, Huawei released a next-generation wireless communications solution, empowering enterprises to succeed in the digital age. The solution integrates voice, video, intercom, monitoring, IoT, and other services into a single system while providing industry-grade reliability and availability on both licensed and unlicensed bands.
By 2020, it is estimated that enterprises around the world will create approximately 7 billion connections. In an ever-changing connected world, Huawei's new solution will accelerate the digital transformation of enterprises, laying a solid foundation for this new era.
Current Wireless Communications Challenges
Many enterprises require privately owned networks to drive wireless communications but are often challenged to acquire sufficient licensed spectrum. Even industries that have a direct bearing on the national economy and people's lives (such as electric power and rail transport) can only acquire less than 10 MHz of private spectrum bands.
However, enterprise digital transformation is driving demand for more bandwidth as communications extend from voice to data, video, IoT, industrial control, cloud, and many other diverse services. Unlicensed bands are an attractive option for enterprises due to support for unlicensed Industrial Scientific and Medical (ISM) bands on the 2.4 GHz and 5.8 GHz totaling several hundreds of MHz of bandwidth. Today unlicensed bands primarily use Wi-Fi access technology, however this technology cannot meet enterprise requirements for reliability, stability, and mobility.
Enterprise Wireless Communications Entering a New Era
3GPP is the world's largest standard development institute for mobile communications and has a powerful industry chain. Under its coordination, mobile cellular communications has entered 4.5G and is evolving to 5G. Huawei has applied 3GPP-compliant wireless communications technologies on both licensed and unlicensed bands to develop a 4.5G-based eLTE industry solution that support both narrowband and broadband services, and integrates licensed and unlicensed bands. This solution inherits the reliability and integration advantages of cellular mobile communications while ensuring service availability by utilizing abundant unlicensed spectrum resources.
"Now, there are no longer obstacles holding back enterprise wireless communications and Huawei is set to lead in this new era," said Qiu Heng, President of Wireless Marketing Operation, Huawei.
"Our next-generation solution enables enterprise customers to create an integrated, highly reliable and available enterprise wireless communications system. Different types of services, including narrowband communications, broadband communications, people-to-people communications, people-to-thing communications, thing-to-thing communications, services with low-latency requirements, and services with a vast number of connections, are supported by the same system. This addresses enterprises' various communications demands including production, operation, management, and office administration, to expedite the digital transformation of enterprises."
Reliability: Huawei's next-generation wireless communications solution guarantees reliability on unlicensed bands. It introduces cutting-edge interference detection and avoidance algorithms to existing advanced cellular communications technologies. This allows for optimized utilization of wireless resources when a large number of users are accessing services. In addition, the inclusion of a device and system-level redundancy mechanism helps ensure industry-grade reliability of 99.999%, enabling the stable and reliable operation of the system.
Integration: In the past, enterprises deployed multiple networks based on different technologies to enable various types of communications services. These services include wireless voice, multimedia communications, wireless video surveillance, data collection from mass number of sensors, real-time dispatch, and remotely controlled robotics. However, these isolated networks are unable to share data, and network construction and maintenance is becoming costly. In the 4.5G cellular communications era and the upcoming 5G era, there is growing consensus among the industry to deploy one system to fulfill the task of completing numerous communications requirements.
Huawei's enterprise wireless communications solution uses 4.5G for enterprises to provide wireless broadband and Low Power Wide Area (LPWA) IoT services through a unified network. The network transfers data, IoT, voice, positioning, and a multitude of other services, realizing full connection between people, between people and things, and between things for enterprises.
The enterprise wireless communications solution has been verified for commercial use in Shanghai's Yangshan Port, one of the largest ports in the world. The verification results conclude that communications reliability reaches 99.999% and operational efficiency of the port increases by 30%. The solution has also been verified in the electric power industry, with all the monitored automatic power distribution terminals providing online services.
As these tests demonstrate, the solution can be applied in many scenarios, such as real-time data collection for power distribution automation, advanced metering infrastructure (AMI) smart electricity meters, wireless video surveillance, urban train-to-ground wireless communications, and data collection from mass numbers of sensors in smart cities.
Large-Scale Commercialization of Next-Generation Enterprise Wireless Communications
Huawei's next-generation Enterprise Wireless Communications solution will be globally available for purchase in July 2017. It is expected that this technology will be widely applied in the fields of electric power, energy, smart parks and smart cities, and will later extend to all other industries. The solution will significantly change enterprises' operation methods, boosting digital transformation across all industries.
CeBIT 2017 is held at the Hannover Exhibition Center in Hannover, Germany, from March 20 to 24, 2017. The Huawei booth is located at C30 of Hall 2. For more details, please visit:http://e.huawei.com/topic/cebit2017-en/index.html