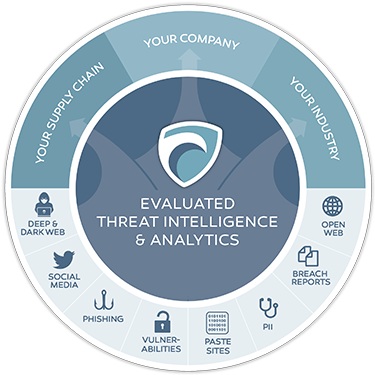 As highlighted in the Cybercrime Trends Year in Review report, adversaries continue to shift their tactics to focus on new opportunities for attack, including IOT devices, supply chains, and compromised credentials.
To help organizations proactively zero in on evaluated threats that are relevant to their business, supply chain and industry, SurfWatch Labs, a provider of cyber threat intelligence solutions, announces the release of SurfWatch Threat Analyst.
SurfWatch Threat Analyst is an easy-to-use SaaS product that delivers strategic and operational threat intelligence to help organizations identify adversarial opportunities for attack and proactively mitigate cyber risks. Threat Analyst automatically collects, standardizes and evaluates cyber threat data from a wide range of open and dark web sources, to eliminate false alarms and ensure timely and complete information. In addition to providing intelligence and security teams with relevant threat data, Threat Analyst also provides practical expert analyst insights and recommendations.
"As our 2016 year-end report shows, cybercriminals continue to go where the opportunities are, and they evolve their tactics to get that upper hand," said Adam Meyer, Chief Security Strategist, SurfWatch Labs. "With evaluated intelligence, analysts don't have to sift through piles of irrelevant data to find that needle in the haystack – they have more context right off the bat. SurfWatch Threat Analyst allows intelligence teams to quickly tie relevant threats to specific areas of the business, their supply chain and industry, ultimately changing a security outcome for the better."
Key SurfWatch Threat Analyst Capabilities Include:
Comprehensive, Automated Collection of Evaluated Cyber Threat Data :SurfWatch Threat Analyst scans and ingests threat data from open and restricted sources, such as news, social media and blogs, dark web markets and forums, paste sites, phishing feeds and more. Instead of delivering an overwhelming stream of raw cyber event data, SurfWatch automatically standardizes and evaluates the data to ensure accuracy and relevancy. This process ensures timeliness while eliminating false positives and incomplete information that could negatively impact decision-making.
Targeted Intelligence Groups: Now analysts have the foundation for receiving highly targeted and evaluated threat data, by quickly and easily classifying threats by key criteria, such as cyber events related to their brand, suppliers, key employees, data, and infrastructure. With this added context organizations can fine-tune their cyber strategy and ensure that key stakeholders receive the right intelligence.
Digital Risk Analysis of Your Company, Supply Chain, and Industry: SurfWatch Threat Analyst links relevant cyber events to an organization's key business characteristics including company brand, suppliers, key employees, data, infrastructure, industry trends and more. Threat Analyst not only provides visibility of an organization's cyber risks through the front door, but it also identifies risk within the supply chain based on SurfWatch's threat intelligence collection and analytics engine.
Searchable Index of Threat Data:In addition to the evaluated intel provided by Threat Analyst, customers also have the capability to search for and be alerted to specific threats collected in the SurfWatch warehouse. These alerts enable customers to determine the right balance of data they want to process versus filtered intelligence.
Ask the Analyst:For specific intel-related questions, organizations can submit a formal RFI to SurfWatch's team of on-demand intelligence analysts. Our team will deliver finished intelligence on a wide range of topics including cyber risk trends, malware analysis, TTP analysis, threat impact assessments, and more – along with prescribed risk mitigation steps.
Flexible Dashboards for Instant Visibility of Cyber Risks:Threat Analyst comes with out-of-the-box, BI-level dashboards to help answer critical cyber risk questions, but also provides flexibility to easily create and tailor dashboards and reports to meet the unique requirements of other key stakeholders.
"SurfWatch Threat Analyst was born out of feedback and usage from not only our customers but also the recommendations of our analysts who needed a flexible, usable solution for cultivating and delivering valuable intelligence to our customers," said Chip Hathaway, VP of Delivery, SurfWatch Labs. "The goal of Threat Analyst is to create a force multiplier for our customers' threat intelligence team by having the best intel, a mature and easy-to-use product, and skilled threat analysts within SurfWatch that can quickly assist our customers."
Now available, SurfWatch Threat Analyst is designed for organizations to quickly establish or extend their intelligence capability with practical, finished intelligence can be used to reduce risk and improve resiliency. SurfWatch Threat Analyst is the software component of SurfWatch Cyber Advisor, which provides a turnkey threat intelligence operation that includes the creation of a personalized risk profile and baseline risk assessment, and then continuous proactive risk monitoring, with specific guidance on how to effectively address critical threats.
ABOUT SURFWATCH LABS
SurfWatch Labs helps organizations and service providers quickly establish a strategic cyber threat intelligence operation that drives more effective use of their tactical defenses. Founded in 2013 by former US Government intelligence analysts, SurfWatch Labs solutions provide a 360-degree view of cyber threats in the context of your business, along with practical and personalized support to create immediate insights and meaningful action. Combining useful analytics, applications and human expertise, SurfWatch solutions can be your off-the-shelf, cyber threat intelligence team or delivered as a comprehensive product suite that easily integrates with your existing cybersecurity operations.
SurfWatch Labs: Cyber In Sight. For more information, visit www.surfwatchlabs.com.