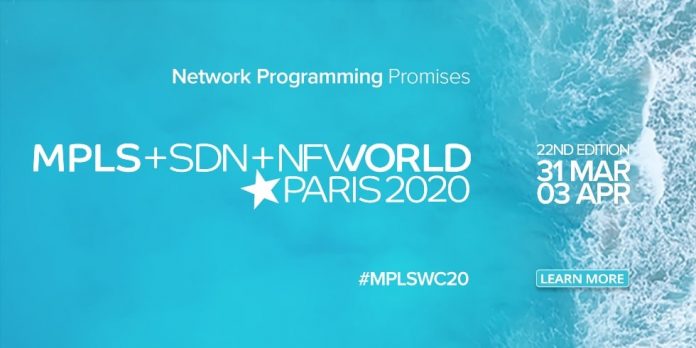 The 22nd Edition of the MPLS + SDN + NFV World Congress will take place from 31st March to 3rd April 2020.
The Congress will once again gather major actors of service providers and enterprises networks evolution.
This year, emphasis is given to network programming (programmability, functions on demand), 5G, SR and Self Healing networks (service assurance, closed loop automation, intent-based). AI and 5G Impact for Networks: Status & Perspectives Disaggregation, Service Assurance, Self Healing Networks, 5G Network Slicing are at the heart of the 2020 programme.
The 2020 agenda covers the current status of AI and 5G impacts on IP/MPLS networks.
How SD? WAN and MPLS are complementary technologies?
What are the current encoding options for SR?
What is the impact of 5G and IoT on IP networks?
How far disaggregation must go?
AIOps: evolution or revolution?
These crucial questions, among others, are addressed by the most renewed engineers and visionary people who have made MPLS+SDN+NFV World one of most valuable event to get a comprehensive overview of where the networking industry is heading to.
Event Name: MPLS SDN NFV World
Event Date:31 March-03 April
Event Venue:Marriott Paris
Event Organizers: Upperside Conferences
Contact Number (with country & area code): 335 56 78 24 01
Email: sylvie@uppersideconferences.com
URL: https://www.uppersideconferences.com/mpls-sdn-nfv/