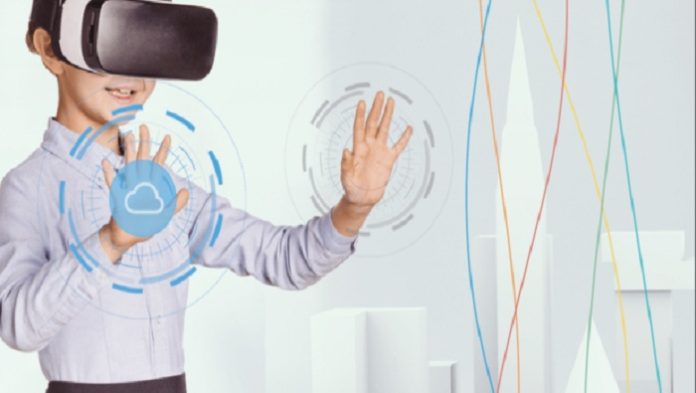 Huawei's VR OpenLab has released a system prototype for its E2E Cloud VR solution. The prototype integrates the cloud-pipe-device ecosystem of the VR industry and builds a unified platform for various VR service scenarios.
The Huawei prototype is the first Cloud VR architecture to demonstrate E2E VR service aggregation. It was jointly developed by Huawei working with many industry partners through VR OpenLab and is a milestone for the implementation of Cloud VR applications.
VR is widely considered to be the next direction of development in the video industry. However, many industry breakpoints have restricted the VR market in its initial phase and rendered scalability impractical. For example, many VR terminals are restricted to proprietary content channels, making it difficult for the consumer to choose which one to buy. Local rendering poses higher performance requirements on user devices, increasing the total cost of ownership.
Most VR headsets are wired, impairing the user experience. Moreover, most VR content is stored on local devices. As such, content copyrights cannot be well protected, dampening the enthusiasm of content providers. To bridge these breakpoints in VR development and promote the VR industry's financial prospects, Huawei has worked together with partners to launch the VR OpenLab industry cooperation plan.
The goal of VR OpenLab is to construct an authentic, large-scale, and commercially available E2E Cloud VR solution. The E2E Cloud VR system prototype is key to achieve this goal.
The prototype consists of three parts: a home terminal, a network, and a cloud server. The home terminal includes a standalone VR and an STB. The standalone VR supports 5G Wi-Fi (802.11ac), which is used to receive and display VR code streams.
The STB synchronizes the VR content to the television, supporting simultaneous on-screen viewing and immersive experiences among multiple people. VR content is stored and rendered on cloud servers, and the network streams Cloud VR code to terminals in real time. The quality of experience of VR services is ensured through Huawei's flattened E2E bearer network and the SmartWi-Fi 300M home network solution. It implements unified service operations and management so that multi-terminal users can share content on the cloud platform.
This system prototype not only builds a standardized industry ecosystem, but also proposes a new Cloud VR business model to promote growth of the VR industry. The prototype decouples terminals from content, marking the evolution of the VR industry from vertical operation to horizontal operation.
This lowers barriers to entry and enriches the quality of content. The prototype also eliminates the need for wired VR headset by enabling wireless transmission and improves user experience. This integrated cloud content solution will drive demand for gigabit home broadband services and promote further growth of the VR industry.
The Cloud VR system prototype is an important achievement for the VR OpenLab and will support a wider variety of content and terminals. In future, the system will provide more abundant content and support more terminals. VR OpenLab, which relies on Huawei iLab, will continue to grow as more industry partners join the VR OpenLab industry cooperation plan.
It will promote the prosperity of the Cloud VR industry through Cloud VR commercial application scenarios, Cloud VR service solutions, Cloud VR bearer network innovation, and operators' Cloud VR services.