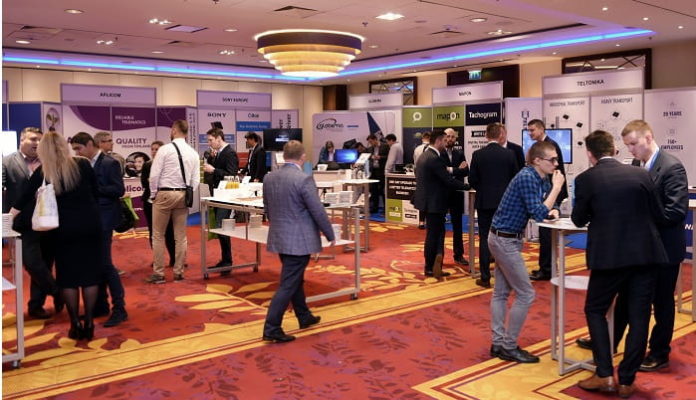 In late September, Warsaw hosted 150 delegates from 24 countries who gathered for the 8th European edition of the international conference and exhibition that focuses on telematics for fleet management and commercial vehicles.
The 2018 eventfocused oncollaborations in the telematics industry. Its topics were presented by globally and regionally recognized speakers and panelists fromAtrack Technologies, Be-Mobile, Cango, Escort, GateHouse Logistics, Globema and Google, Omnicomm, RCS-Telematics, Sony Europe, Teltonika, TomTom Telematics, 360Locate,and others. The event saw many interesting presentations and fruitful panel discussions, and hosted three concurrent interactive sessions, providing space for workshops and brainstorming interaction among participants and facilitators.
Session One was conducted by Ingus Rukis, Co-CEO at Mapon.This session discussed options on how telematics companies can cooperate and still remain competitive when facing end customers,considering the rising development costs and the requirements of those end customers.It is a complex task to remain in the market without making huge investments in R&D or a partner network. The session brought up examples from other industries and tried to figure out how they apply in the telematics industry.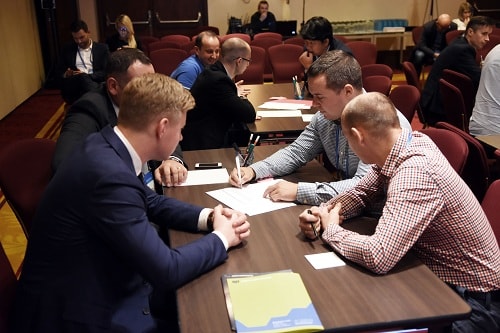 Session Two was facilitated by Steve Beck, General Manager at Sony Europe.The session discussed the IC, module, and algorithm solutions offered to tracker/telematics device developers. These include: GNSS Rx, CAT-M1/NB-IoT cellular wireless connectivity, and Untethered Dead Reckoning (UDR) technologies. The new and innovative telematics usecases opened up by ultra-low power consumption were presented.
The third session was conducted by Aurimas Brazionis, Chief of Sales for SEE Group at Teltonika. As commercial telematics is changing rapidly and some changes can be critical for the providers, participants discussed whether it is better to develop everything in-house or if it is more optimal to share some development projects with other companies within the industry or in other industries.
The Importance of Cross-Industry Collaborations
At this panel discussion, moderated by Alenka Bezjak Mlakar, Director at Telematics Conference, guests Marie Chang, Regional Sales Manager at Atrack Technology, Marek Bella, Coordinator and Integration/Support Handler at Gate House Logistics, and Steve Beck, General Manager at Sony Semiconductor, discussed the need for cross-industry collaborations and how companies change when working with other industries. They explained how challenges that occur during collaborations can be managed and what stakeholders should be aware of when doing business with companies outside of the industry.
Leveraging the Power of Telematics
This panel discussion, moderated by Michelle Yeh, Regional Sales Managerat ATrack Technology, addressed the continuously evolving telematics ecosystem. The panel guests included JanCools, CEO at Be-Mobile, Bianca Barbu, CMOat Cango, Kseniya Dyachkova, Head of Export Department at Neomatica, and Dariusz Terlecki, Sales Director Poland and Eastern Europe at TomTom Telematics. They believe that by forming strategic partnerships with key technology enablers, telematics solution providers can offer customized services that maximize business benefits and create a unique customer experience.
See you in Prague in 2019!
This event offered many networking possibilities, both formal and informal, which gave delegates many opportunities for one-on-one meetings and further discussions. The event featured 21 exhibition booths, where 20 companies presented their latest products and solutions in telematics. Event organizers also announced the next event, which will be held in September 2019 in Prague, Czech Republic.
Event website: http://www.telematics-conference.com/ceeurope/