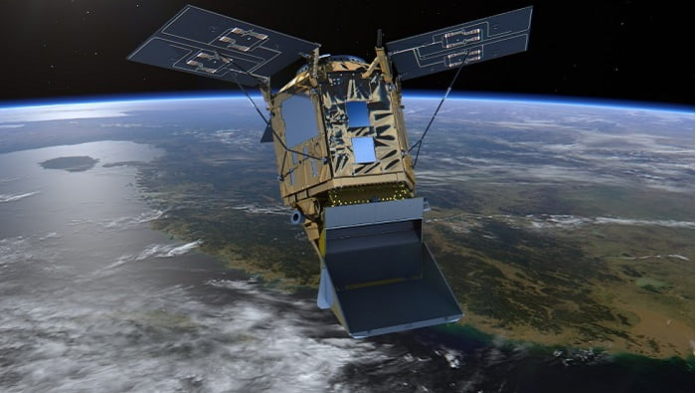 The new Sentinel-5P earth observation satellite of the European Space Agency ESA was launched into space in northern Russia. Sentinel-5P is one of the overall six satellites in the EU-sponsored Copernicus program.
The data of the new observation satellite, which measures the complete surface of our planet once a day, will be used primarily for environmental protection and air quality monitoring. Sentinel-5P will investigate the earth's atmosphere and measure, for example, the content of trace gases such as ozone or methane that influence the air and climate on the earth.
The 820-kilogram satellite is equipped with the state-of-the-art measuring instrument Tropomi. Produced in the Netherlands for Airbus Defence and Space Netherlands and TNO, the instrument contains spectrometers featuring ZEISS optics. As every gas delivers typical measurement values at specific wavelengths, Tropomi can easily detect where what gases frequently occur. "Here in Jena we have developed and produced high-quality diffractive gratings for Tropomi and are delighted that optics from ZEISS are once again on board of an ESA mission," says Dr. Alexandre Gatto from the Microstructured Optics area of ZEISS.
The Sentinel-5P satellite now launched is a forerunner model: it will bridge the transition between the previous satellite and the final Sentinel-5 satellite which will be launched in 2021. "P" stands for "precursor".
Further satellites are to be launched as part of Copernicus project before 2030. The first satellite, the Sentinel 1A, was launched on 3 April 2014.
Press contact
Gudrun Vogel
Jena Site
Phone: +49 3641 64-2770
gudrun.vogel@zeiss.com
About ZEISS:
ZEISS is an internationally leading technology enterprise operating in the optics and optoelectronics industries. The ZEISS Group develops, produces and distributes measuring technology, microscopes, medical technology, eyeglass lenses, camera and cine lenses, binoculars and semiconductor manufacturing equipment. With its solutions, the company constantly advances the world of optics and helps shape technological progress.
ZEISS is divided up into the four segments Research & Quality Technology, Medical Technology, Vision Care/Consumer Products and Semiconductor Manufacturing Technology. The ZEISS Group is represented in over 40 countries and has more than 50 sales and service locations, upwards of 30 manufacturing sites and about 25 research and development facilities around the globe. In fiscal year 2015/16, the company generated revenue approximating 4.9 billion euros with around 25,000 employees. Founded in 1846 in Jena, the company is headquartered in Oberkochen, Germany. Carl Zeiss AG is the strategic management holding company that manages the ZEISS Group. The company is wholly owned by the Carl Zeiss Stiftung (Carl Zeiss Foundation).Further information www.zeiss.com