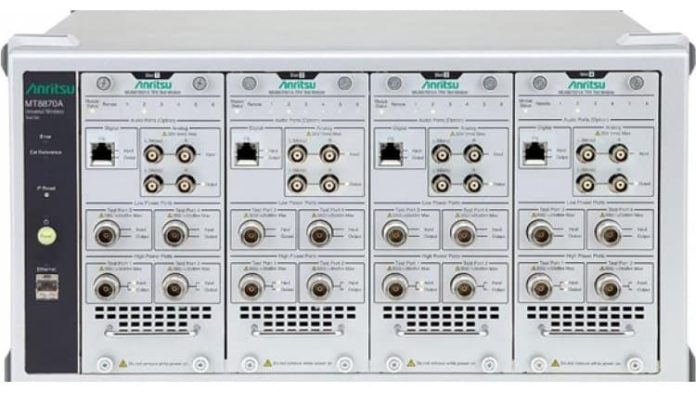 Anritsu Corporation starts sales of its NB-IoT Uplink Tx Measurement MX887067A software and NB-IoT Downlink Waveforms MV887067A package supporting 3GPP RF measurement tests for NB-IoT devices and further strengthening the functions of the popular Universal Wireless Test Set MT8870A.
Installing these developed NB-IoT options in the MT8870A enables evaluation of communications equipment with built-in NB-IoT functions as well as tests of the RF TRx characteristics of modules. Additionally, these same options are bundled with a PC application supporting signal analysis to assist customers with development work and design testing. Moreover, a fully automatic measurement application is provided for controlling measuring instruments and chipsets at prototyping and mass-production testing. These application software packages can be used to simplify test program creation and automate measurement, cutting customers' test software development man-hours by about 90%. Anritsu expects this NB-IoT measurement solution to help promote the spread of IoT devices.
[Development Background]
NB-IoT is a wireless technology developed for IoT defined by 3GPP Release 13. It is expected to be used by cellular networks for applications in various fields, such as smart meters, smart cities, package delivery tracking, agriculture, etc.
NB-IoT devices are expected to spread rapidly as carriers in N. America, Europe, and China start to deploy services, followed by Japan in 2018. Related issues for device suppliers are how to cut device costs by improving measurement efficiency. To solve these issues, Anritsu worked with chipset vendors to develop a turnkey system supporting fully automatic measurement. In addition, the released options make full use of optimization technology developed as a manufacturing solution for 2G/3G/4G terminals and have been developed as a multi-device test solution for cutting measurement costs per device as far as possible.
[Product Outline]
The MT8870A is a measuring instrument for mass-production of wireless communication devices, including 2G/3G/LTE/LTE-A, W-LAN, Bluetooth, GPS, FM, etc., technologies. Up to four high-performance test units can be installed in one main chassis, with each unit performing completely independent parallel measurements to evaluate up to four wireless communications devices simultaneously.
Installing the developed NB-IoT measurement software (NB-IoT Uplink Tx Measurement MX887067A and NB-IoT Downlink Waveforms MV887067A)in the MT8870A supports fast and easy 3GPP NB-IoT RF tests, including power, frequency, modulation accuracy, Rx sensitivity, etc.
[Key Features]
World's best multi-DUT measurement tact time Fully automatic Calibration & Verification test tool developed in collaboration with chipset vendors.
[Target Markets and Applications]
Target Markets: Vendors of NB-IoT chipsets, modules, and finished products Applications: NB-IoT device PHY layer (RF) tests
Contact:
Madhukar Tripathi
Anritsu India Pvt Ltd
Office No 18, Ground Floor,
Stellar IT park, C25, Sect 62
NOIDA (UP) INDIA
Pin Code 201 309
Phone +91 120 4211330-31-32
Email: Madhukar.Tripathi@anritsu.com
Cell Phone : +91 9310 666 466