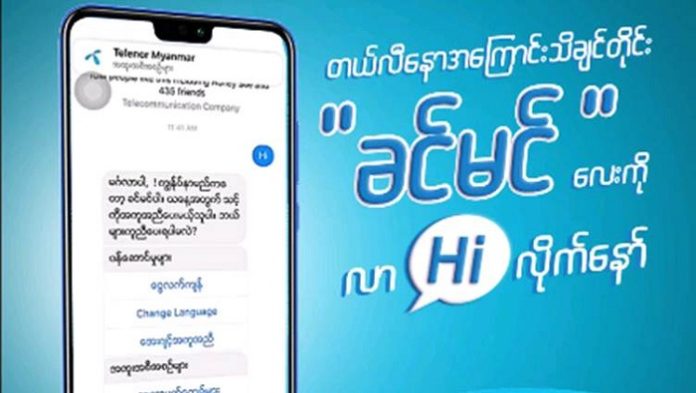 With the intention to advance the experience of its customers and to upgrade the support quality to next level, Telenor Myanmar has recently introduced a Chatbot feature called 'Khin Min', as its forefront interface in customer service on its Facebook messenger.
Khin Min is a computer program using artificial intelligence which interacts with customers to ease E-care reply. Starting from the end of January, 'Khin Min' has become the first front interface to the customers who contact Telenor Myanmar through its Facebook Messenger. Just by simply saying 'Hi', it will provide relevant assistance to the customers for several functions and services including checking balance, buying packs and explaining about promotions. Any further issue which Chatbot cannot assist will be redirected to the customer care agent within the same channel.
In December 2018, Telenor Group's research arm, Telenor Research, has also identified seven tech trends to study on for 2019 which includes Deep fake, AI Ethics, 5G, Internet of Things, Chatbots, Screen time and Green tech. And now, Telenor Myanmar has managed to introduce Chatbot feature in its digital communications. Telenor Myanmar is also looking forward to keeping upgrading this Chatbot feature to be able to perform much more feature in the next stage.
Chan May Ling, Head of Digital Services, Telenor Myanmar
With the help of 'Khin Min', we will be able to respond to our customers' queries more swiftly and efficiently in several functions and services. It has already proved its competency within in the few days of the test run by taking and solving almost half of the daily queries on the messenger..