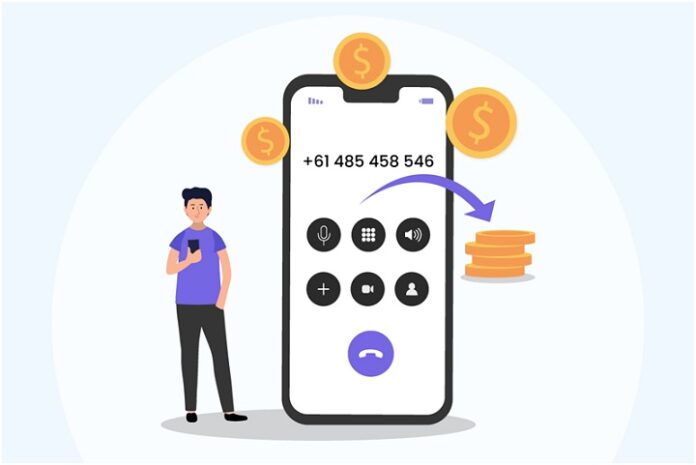 We have heard a lot about virtual phone number, how they work, their benefits, and their use cases. But have you ever wondered how to make money with a virtual phone number?
If you plan to start a virtual cloud phone business and are searching for ideas to make a living out of a virtual phone number, here are 7 ways to make money with a virtual phone number.
The best ways to make money with a virtual phone number:
Residential virtual cloud phone for entrepreneurs
International calling fees
Upgrades and premium features
Specially customized services
Collaboration with complementary business
Smart cross-selling strategies
Greater integration with CRM and applications
1.      Residential virtual cloud phone for entrepreneurs 
Not all businesses start with pre-planned infrastructures and office setups. Some great companies like Google, Apple, Amazon, Disney, and Harley Davidson began in a garage.
Keeping that in mind, you can target entrepreneurs and pitch your idea of virtual cloud phones and virtual phone numbers, which can help them grow their businesses by reaching targeted audiences with minimal investment.
You must convince them that communication is the most integral part of any business, which is true and how your virtual cloud phone services and virtual phone numbers will meet all those communication requisites.
It would be best to offer them a residential virtual cloud phone setup with the flexibility to move it to a different location if needed when their business outgrows the residential infrastructures.
You can offer them flexible and scalable packages that include customizable solutions to meet their needs.
A residential virtual cloud phone is useful for personal usage also. Users can make international calls at cheaper prices than landline phones. Talking of international calls, let us jump into the next strategy.
2.      International calling fees
International calls via landlines are extremely expensive, and a virtual phone number is the best alternative modern technology can offer to date.
A virtual cloud phone vendor and service user can leverage this feature to make money or reduce costs.
From a service user's point of view, cheaper international calling rates mean lower calling fees.
Users can conduct business internationally using virtual cloud phone features effectively at low calling rates, and they can reduce their calling costs by more than half of their initial expenditure.
From a vendor's point of view, you can use this feature as your selling factor as you can convince businesses of cost reduction on their international calling fees using virtual phone numbers.
You can offer businesses international and toll-free virtual numbers of any desired countries at a low price, which can help them conduct business globally.
International vanity numbers and local numbers can be your great selling factors, as companies can use those numbers to track callers and increase their call success globally.
3.      Upgrades and premium features
Upgrades and premium features are among the best ways to make money with a virtual cloud phone. You have to constantly work on the system's updates and upgrades to meet the customer's demands and market fluidity.
As a cloud service provider, you must care for clients' updates and maintenance for free. But you can leverage the upgrades and premium features of the virtual cloud phones to make additional money out of your existing customers.
You can send them demos and free trials of upgraded and premium features for a certain time to attract and habituate them toward those features, making effective sales.
You can use this strategy with your hot leads also. You have to allow free trials and demos until they get habituated and need your system to perform certain tasks.
You must be flexible with your pricing and customizable with the features so that they get to feel comfortable using your services. This strategy helps you create a loyal customer base and deliver excellent customer experiences.
4.      Specially customized services
As a virtual cloud phone service provider, you have to be strategic, try new ideas, and implement trails to gather customer reviews and feedback.
Customer reviews and feedback will help you create and customize application features to meet their demands based on their business level, niches, categories, and stature.
Different businesses have different needs, and you cannot fulfill them with a single solution package. You and your developers can focus on creating and customizing features that focus on particular customer bases.
This strategy will help you capture the attention of different service niches like healthcare, vehicle rentals, financial sectors, law firms, etc. You can make a lot of money out of these business niches as they tend to stick and stay loyal to specialized service providers.
Delivering customized services to a focused group of businesses can be a great way to make money with a virtual cloud phone.
5.      Collaboration with complementary business
Collaboration in business is the best way of marketing your brand to new people and loyal customers of your partner in collaboration. You will have a good opportunity to correlate your product and services with those they are using.
Complementary businesses are not your rivals and do not compete against you for similar or the same products and services. You can create strategies and campaigns more often with your complimentary businesses, more exposure, and bigger marketing.
For example, you sell virtual cloud phone services. Your complimentary businesses sell products and services like CRM [Customer Relationship Management] that can go side-by-side and produce greater efficiency and effectiveness in unity.
Both the parties involved in the collaboration can help each other out and promote complementary products so that their loyal customers unite as one and create a bigger sales funnel for both the companies.
You should not shy from collaborations, even if they are from your niche; you should be confident in your product and services to edge your competitors.
6.      Smart cross-selling strategies
Your business should include other products and services from a virtual cloud phone service to effectively implement this strategy. Services like superfast broadband, ultrafast broadband, backup solutions, privacy and security services, etc., can be of great use for cross-selling cloud phones.
You can provide virtual phone numbers with basic features as a bonus or complimentary service for purchasing any products and services mentioned above.
It creates a better customer relationship and enhances your business's customer experience. This process helps you attract your existing customer of other products to the virtual cloud phone services.
Since they are your current loyal customers, they provide you with honest opinions and feedback, which you can use to improve your services and plan better strategies accordingly.
Cross-selling virtual phone numbers as a part of a greater package deal helps you capture the attention of your loyal customer, who are more likely to purchase the service as they already trust you with your other services.
It is human nature to get as much quality service as possible from a single vendor rather than scouring different places. You have to leverage this nature of humans to make greater sales through cross-selling.
7.      Greater integration with CRM and applications
From a customer's POV, a virtual cloud phone with a larger third-party integration capability is better for business needs and purposes.
Integration of CRMs, eCommerce, help desks, and other complementary applications makes business automated and requires less human intervention.
It is always better if cloud phone systems incorporate or coherently work with AIs, ML, and NLP for greater automation and user assistance.
A virtual cloud phone system should provide optimal services to meet every business's needs and make them simpler and more automated.
From a service provider's POV, a virtual phone number should have the maximum integration capabilities to facilitate users' needs and automate workflows in any business.
You should explain to your developer teams the business's needs and customer demands in the integration sectors properly so they can customize them to fulfill all requirements.
Customizing packages to fit different businesses and requirements is a good way of addressing users' needs, which is applicable with integrations also.
If you can create a virtual phone system according to customer demands and business requirements, you can easily make greater sales and edge over your competitors.
Greater integration of CRMs, eCommerce, helpdesk, and other complementary applications can become a great sales factor and customer satisfaction.
Bottom line
Starting a virtual cloud phone business can become tricky if you do not understand cloud business and have a clear strategy and plan to make money.
Those 7 ways to make money with a virtual phone number can come in handy if you are a start-up or someone who has limited ideas on how to capitalize on the cloud phone business.
The above-listed strategies can help you impact the cloud phone business if you implement them in your business as per your needs.
You must understand customers' needs and current business requirements to facilitate customers with what they need. It would be best to keep up with the changes and evolving trends to edge your competitors.
You should learn to consider customer reviews and feedback seriously since they are the ones who invest in your products and services.