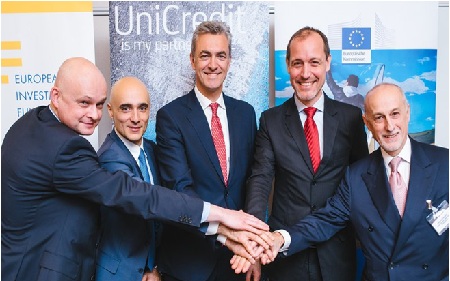 The European Investment Fund (EIF) and UniCredit signed a guarantee agreement to increase the financing for innovative small and medium-sized enterprises (SMEs) in eight countries in Central and Eastern Europe.
The partnership is under the EU programme for research and innovation Horizon 2020 and [is supported] by the European Fund for Strategic Investments.
The umbrella agreement enables UniCredit to offer additional financing in the amount of 160 million euro for innovative companies through its banks in Bosnia and Herzegovina, Bulgaria, Croatia, the Czech Republic, Slovakia, Hungary, Romania and Serbia.
The banks from UniCredit Group in Bosnia and Herzegovina and Serbia will benefit from the support of guarantees provided by EIF under the Horizon 2020 Programme, and the guarantee agreements with the banks of UniCredit in Bulgaria, Croatia, the Czech Republic and Slovakia, Hungary and Romania will be supported with resources coming from the Investment Plan for Europe.
InnovFin: 15 million euro for innovative small business in Bulgaria
Under the agreement, UniCredit Bulbank will offer to the Bulgarian business a credit facility amounting to 15 million euro at preferential interest rates and reduced collateral. 50% of the credit risk of the provided loans will be guaranteed through the InnovFin mechanism.  The maximum possible amount of financing under the scheme in Bulgaria will be 3.75 million euro, and the minimum amount – 25,000 euro.
The enterprises that will apply for loans under this facility are required to develop innovative products, processes or services or to be involved in research and development activities. Eligible candidates under the scheme are also enterprises which in the past 24 months have registered at least one patent or received an award for innovations from a European organization.
The scheme will be active for 2 years and could be extended with one more year if there is interest on the part of the business.
"This umbrella SME guarantee agreement will be instrumental in helping countries in the Western Balkans and Eastern European regions to foster innovation and entrepreneurship.   I am confident that UniCredit's network of banks in these eight countries will target high-growth potential companies, which will be able to translate the additional financing received into growth and job creation", said EIF Chief Executive Pier Luigi Gilibert.
"We are strongly committed in supporting SMEs in Central and Eastern Europe.  Thanks to the new umbrella facility and our extensive network we can further facilitate the development of innovative SMEs across different countries where our clients will have easier access to finance and will benefit of better pricing. ", commented Carlo Vivaldi, Head of CEE Division of UniCredit.
About EIF
The European Investment Fund (EIF) is part of the European Investment Bank Group. The main mission of EIF is to support micro, small and medium-sized enterprises by helping them get access to finance.
About UniCredit
UniCredit is a leading European commercial bank with strong positions in 16 European countries. The bank operates on nearly 50 markets, has more than 6,300 branches and over 119,000 employees (as at June 30, 2016).In the CEE Region, the Group has an international bank network in 13 countries with around 3,000 branches.
About the Investment Plan for Europe
The Investment Plan for Europe is focused on strengthening the European investments to create new jobs and growth.
About Horizon 2020
On January 1, 2014, the European Union launched a new programme for financing of scientific research and innovations, called Horizon 2020. In the following seven years, almost 80 billion euro will be invested in research and innovation projects in support of the economic competitiveness of Europe and broadening the horizons of human knowledge. The EU budget for scientific research is focused mainly on improvement of everyday life in fields such as healthcare, environment, transport, food and energy. Research partnerships with the pharmaceutical and automotive industry, as well as in the field of space research and electronics too encourage investments of the private sector in support of future growth and creation of high-skilled jobs. InnovFin – EU Finance for Innovators – the new generation of financial instruments and consultancy services of the EU is developed under Horizon 2020 in order to help innovative companies get easier access to financing. Under InnovFin  EU Finance for Innovators up to 48 billion euro will be injected in investments in scientific research and innovations across Europe.
About InnovFin
InnovFin SME Guarantee Facility provides guarantees and counter-guarantees on debt financing of between 25,000 euro and 7.5 million euro in order to improve access to loan finance for innovative small and medium-sized enterprises and small mid-caps (up to 499 employees). The guarantee scheme is managed by EIF and implemented through financial intermediaries – banks and other financial institutions – in EU member states and associated countries. Under this mechanism, financial intermediaries receive guarantees from EIF for part of the losses in case of default on the loans granted by them under the mechanism.
Additional media information:
Victoria Blajeva,
tel +359 (0) 2 9264 993,
viki.davidova@unicreditgroup.bg
Mara Bareva,
tel +359 (0) 2 9264 963,
mara.bareva@unicreditgroup.bg
Beatris Nikolova,
tel +359 (0) 2 9232 528,
beatris.nikolova@unicreditgroup.bg