Without the usage of IT, it's currently impossible to launch any business, especially eCommerce. If technologies had disappeared from business, the primary sectors of the global economy would collapse. That's because, in the twenty-first century, most commercial operations cannot be carried out without IT solutions.
With the help of modern technologies, it's possible to accelerate business development, eliminate unnecessary actions, streamline the necessary ones, and optimize the use of resources. They reduce the cost of products, increase productivity, and achieve cost savings.
In this article, we will talk about how modern technology impacts your business development and how you can benefit from it.
➔  Online business
During the pandemic, online shopping has become the only way to shop for many. This sphere has experienced explosive growth. Large eCommerce platforms are excellent sales channels for small and medium-sized businesses involved in the production of various goods.
As a rule, they are interested in expanding the range and are ready to offer attractive cooperation conditions to small companies. Working with marketplaces relieves the business of the need to develop its online store and makes it possible to focus on product production and quality.
Moreover, online business owners have every opportunity to speed up their business development process using their website or mobile application. You can offer your products or services to clients from all over the world without having a physical office. Isn't that wonderful!
➔  Remote work
Modern technologies have allowed numerous business owners to transfer their business online and their employees to a remote work format. What does it mean? Everything is simple here. Today, many eCommerce companies and online businesses actively hire employees from various countries and legally pay them a salary.
Technology advancements have made this method accessible. All you really need to establish an online business are an Internet connection, a reliable laptop for remote work, and the required software. It's not necessary to be present in person even when concluding contracts. It's enough to discuss all the details with your business partner in a video call and add electronic signatures. What savings on air travel and business meetings!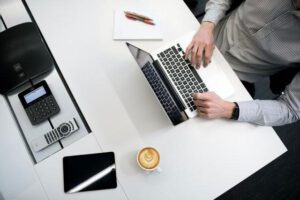 ➔  Delegating just got easier
Regardless of whether you run an online business or rent an office to sell goods in your offline store, you, as a business owner, in any case, need to delegate some tasks. But now it's not necessary to permanently be at the office. You can indicate the required amount of work being hundreds of kilometers away. There are many task management tools for this.
In addition, if a task is extremely crucial or its textual description takes a lot of time, you can use screen recording software and show the performer/employee all the necessary information. This option is perfect for any business field, especially if you need, for instance, a visual demonstration of web designer mistakes. It's enough to learn how to record a screen on Mac or master screen recording on Windows and install one of the applications the market offers today.
➔  Customer service
It doesn't matter if you own an eCommerce business or provide beauty services in your city. In any case, you should know what customer service is. Without good service, you won't have good profits. It's a simple truth that many online business owners have probably already figured out.
Modern technologies offer a lot of options to simplify interaction with the client and collect reviews and feedback. So AI chatbots greatly simplify the work of managers and help answer frequently asked questions. If the question requires the help of a customer support specialist, then a virtual phone number will come in handy to contact any client from anywhere in the world and consult.
In addition, to maintain competitiveness, it's significant that customers can receive services wherever it's convenient for them: at your office, on the website, or in the mobile app. All this is possible with the help of modern technology only.
➔  Digital marketing
With the development of modern technologies and in conditions of high competition, all traditional methods of advertising are fading into the background. Today, the field of digital marketing is actively developing, which, with a competent approach and a certain budget, can help with business development and bring it to the next level. It's not necessary to spend big bucks and paper on printing brochures and flyers. Almost all marketing campaigns have moved online. Today, video content and targeted advertising rule. So it's better to invest in them.
Just a few years ago, you could do without online customer support and simply advertised your company in the newspaper. Today, you have to put in the extra effort if you want to get good reviews, positive ratings, and recommendations. Therefore, businesses need to be attentive to their online reputation.
➔  Accounting
As a rule, the activities of small enterprises aren't associated with serious financial flows, and such companies need an accountant occasionally, for instance, during the period of tax reporting. Keeping a specialist on staff isn't pragmatic. But you can also save money on freelance accountants, preferring specialized services to them. Using such cloud tools, the company doesn't need to buy and install any programs. It's enough to pay for access.
Online accounting tools will help you generate primary documentation, calculate tax amounts, submit reports, and check counterparties — do everything that a company would pay an accountant for, but much cheaper. When used correctly, technology can be a powerful driver for small business development.
It's the best option for small companies and individual entrepreneurs. Such technologies contribute to business development and save employees from routine work. Even when your eCommerce business begins to grow and an accountant appears on the staff, don't rush to abandon such tools. Your specialist will be happy to get rid of most of the routine tasks.
Summing up
Profitability, availability of information at any time and from anywhere in the world, flexibility, ease of scaling the business and its development, digital marketing — all these are the advantages of the development of modern technologies and their benefits for business.
IT has become an integral part of modern business. With the constant development of technology comes continuous business development. Every year it becomes easier to start an online business and make decent money. Don't miss the opportunity to enjoy all the benefits of modern technologies for your small company.