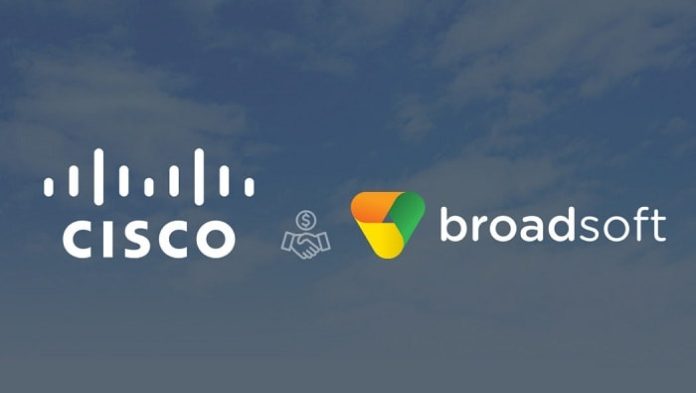 Cisco and BroadSoft announced a definitive agreement for Cisco to acquire publicly-held BroadSoft, Inc., headquartered in Gaithersburg, MD. Pursuant to the agreement, Cisco will pay $55 per share, in cash, in exchange for each share of BroadSoft, or an aggregate purchase price of approximately $1.9 billion net of cash, assuming fully diluted shares including conversion of debt. The acquisition has been approved by the board of directors of each company.
"Together, Cisco and BroadSoft will deliver a robust suite of collaboration capabilities across every market segment," said Rowan Trollope, senior vice president and general manager of Cisco's Applications Business Group. "We believe that our combined offers, from Cisco's collaboration technology for enterprises to BroadSoft's suite for small and medium businesses delivered through Service Providers will give customers more choice and flexibility."
"We are excited about this transaction, which represents the culmination of a robust process undertaken by BroadSoft's Board of Directors to maximize shareholder value," said Michael Tessler, president and CEO, BroadSoft. "As businesses continue to move toward the cloud in search of simplicity and speed, joining Cisco will allow us to deliver best-in-class collaboration tools and services. BroadSoft's hosted offerings, sold through the Service Providers and aimed at small and medium businesses, are highly complementary to Cisco's on-premises and enterprise-centric HCS offerings. Together, we can inspire teams to create, collaborate and perform in ways never before imagined."
More and more businesses expect fully featured voice and contact center solutions with the ability to deploy them on premises or in the cloud. By combining BroadSoft's open interface and standards-based cloud voice and contact center solutions delivered via Service Provider partners, with Cisco's leading meetings, hardware and services portfolio, the combined company will offer best-of-breed solutions for businesses of all sizes and deliver a full suite of collaboration capabilities to power the future of work.
The acquisition of BroadSoft reinforces Cisco's commitment to Unified Communications and enhances its ability to address the millions of aging TDM lines poised to transition to IP technology and cloud native solutions over the coming years.
"Cisco recently marked a significant milestone with our 200th acquisition. Acquisitions continue to be a core part of our innovation strategy and over the past two years have helped Cisco accelerate or enter areas such as IoT, application intelligence, AI, hyperconvergence and SD-WAN," said Rob Salvagno, vice president of Cisco Corporate Development. "With the addition of BroadSoft, we expect to accelerate the pace of innovation across our entire collaboration portfolio."
The acquisition is expected to close during the first quarter of calendar year 2018, subject to customary closing conditions and regulatory review. Prior to the close, Cisco and BroadSoft will continue to operate as separate companies. Upon completion of the transaction, BroadSoft employees will join Cisco's Unified Communications Technology Group led by Vice President and General Manager Tom Puorro, under the Applications Group led by Trollope.
About BroadSoft
BroadSoft is the technology innovator in cloud PBX, unified communications, team collaboration, and contact center solutions for businesses and service providers across 80 countries. We are a market leader for cloud unified communications with an open, mobile and secure platform trusted by 25 of the world's top 30 service providers by revenue. Our BroadSoft Business application suite empowers users and teams to share ideas and work simply to achieve breakthrough performance. For additional information, visit www.BroadSoft.com.
About Cisco
Cisco is the worldwide technology leader that has been making the Internet work since 1984. Our people, products, and partners help society securely connect and seize tomorrow's digital opportunity today. Discover more at newsroom.cisco.com