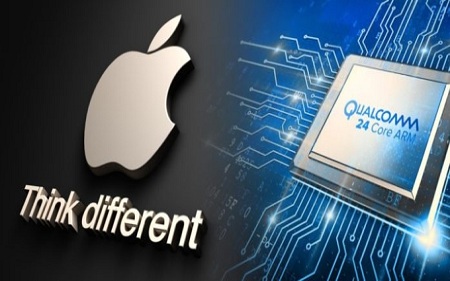 Qualcomm Incorporated announced that it has been informed by Apple Inc. that Apple is withholding payments to its contract manufacturers for the royalties those contract manufacturers owe under their licenses with Qualcomm for sales during the quarter ended March 31, 2017.
Apple has indicated it will continue this behavior until its dispute with Qualcomm is resolved."Apple is improperly interfering with Qualcomm's long-standing agreements with Qualcomm's licensees," said Don Rosenberg, executive vice president and general counsel of Qualcomm.
"These license agreements remain valid and enforceable. While Apple has acknowledged that payment is owed for the use of Qualcomm's valuable intellectual property, it nevertheless continues to interfere with our contracts. Apple has now unilaterally declared the contract terms unacceptable; the same terms that have applied to iPhones and cellular-enabled iPads for a decade. Apple's continued interference with Qualcomm's agreements to which Apple is not a party is wrongful and the latest step in Apple's global attack on Qualcomm. We will continue vigorously to defend our business model, and pursue our right to protect and receive fair value for our technological contributions to the industry."
About Qualcomm
Qualcomm's technologies powered the smartphone revolution and connected billions of people.We pioneered 3G and 4G – and now we are leading the way to 5G and a new era of intelligent, connected devices. Our products are revolutionizing industries, including automotive, computing, IoT, healthcare and data center, and are allowing millions of devices to connect with each other in ways never before imagined. Qualcomm Incorporated includes our licensing business, QTL, and the vast majority of our patent portfolio. Qualcomm Technologies, Inc., a subsidiary of Qualcomm Incorporated, operates, along with its subsidiaries, all of our engineering, research and development functions, and all of our products and services businesses, including, our QCT semiconductor business. For more information, visit www.qualcomm.com.
Qualcomm Contacts:
Pete Lancia, Corporate Communications
Phone: 1-858-845-5959
email: corpcomm@qualcomm.com
John Sinnott, Investor Relations
Phone: 1-858-658-4813 
e-mail: ir@qualcomm.com