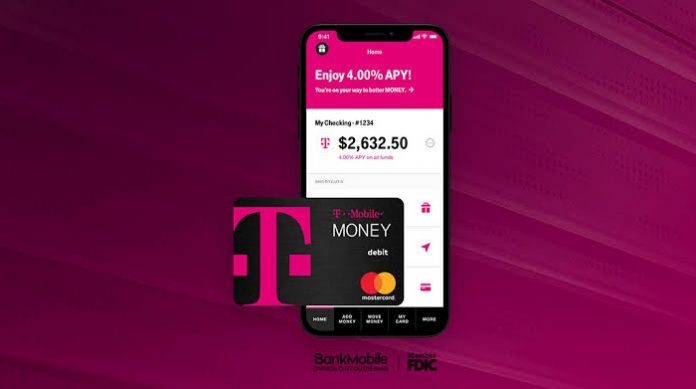 Another consumer pain point: tackled. T-Mobile launched T-Mobile MONEY in Puerto Rico. T-Mobile MONEY is a no-account-fee, interest-earning, mobile-first checking account that anyone can open and manage right from their smartphone. With T-Mobile MONEY, T-Mobile postpaid customers can earn an industry-leading 4.00% Annual Percentage Yield (APY)i on balances up to $3,000 — 80 times higher than the average U.S. checking account interest rate¹ — and 1.00% APY on every dollar over that! Plus avoid all those big bank overdraft and account fees. And everyone else — even Verizon and AT&T customers — can score 1.00% APY i on all balances.
"T-Mobile recently launched the first and only 5G network in Puerto Rico, with coverage in areas of all 78 municipalities across the Island including Vieques and Culebra … and now with T-Mobile MONEY, the Un-carrier is the first wireless company to bring digital banking to Puerto Rico," said Jorge Martel, Vice President and General Manager of T-Mobile Puerto Rico. "T-Mobile's continued investment in Puerto Rico creates opportunities that foster the Island's socioeconomic development. We are committed to our customers and to bringing technology and innovation to Puerto Rico."
Keep More, Earn More
Big banks are built on fees. In 2018, Americans paid $36 billion … in account maintenance fees alone!² And that's just one kind of fee. With T-Mobile MONEY, there are no account or overdraft fees, no fees at over 55,000 in-network Allpoint® ATMs ii in the U.S. and abroad and no fees from T-Mobile MONEY for using out-of-network ATMs. Also, no minimum balance requirement!
And, you'll earn more interest on your money, too. A lot more. T-Mobile postpaid customers can get 4.00% APY i on balances up to $3,000 and 1.00% APY on every dollar over $3,000 when they sign up with their T-Mobile ID and deposit at least $200 each month. Everyone else scores 1.00% APY on all balances. And T-Mobile postpaid customers can also receive Got Your Back overdraft protection iii when they sign up for T-Mobile MONEY. So when the unplanned happens, T-Mobile customers can go in the red, up to $50, without penalty — they just need to bring the account back to a positive balance within 30 days to continue using Got Your Back.
Banking Built for Mobile
Consumers are outgrowing traditional banks — 7 out of 10 consumers bank digitally³, and smartphones are the fastest growing digital platform.? Yet less than half of traditional banks say they have a digital strategy?, and only 13% believe their core systems can keep up with digital innovation.?
T-Mobile MONEY is mobile-first, and customers can manage their checking account right from the app — make mobile check deposits, set up direct deposit, pay bills, send a check, pay with a mobile wallet such as Google Pay and Samsung Pay, transfer money and even make payments person to person. The app offers biometric security with fingerprint and Face ID login, account alerts and debit card disabling. Customers can get 24/7 bi-lingual customer service and support with T-Mobile MONEY Specialists.
T-Mobile MONEY also comes with a Mastercard® debit card you can use at more than 55,000 Allpoint ATMs in the U.S. and abroad — more ATMs than Bank of America, Chase or Wells Fargo?— and customers can use the T-Mobile MONEY app or website to locate the closest ATM. Plus, the T-Mobile MONEY Mastercard offers Mastercard Zero Liability Protection.
T-Mobile MONEY is created in partnership with BankMobile, a division of Customers Bank (Member FDIC). T-Mobile MONEY accounts are held at BankMobile and deposits are FDIC-insured up to $250,000.
Get T-Mobile MONEY
To sign up directly from a smartphone, just download the T-Mobile MONEY app from the Google Play Store for Android 5.1 or later or Apple App Store for iOS 10.3 or later (or use T-Mobile MONEY online at www.t-mobilemoney.com). For personal support, customers can also sign up in any T-Mobile retail store. T-Mobile customers can dial **MONEY from their T-Mobile device. Residents of the 50 U.S. states and Puerto Rico of legal age with a social security number can open an individual account — you do not need to be a T-Mobile customer.