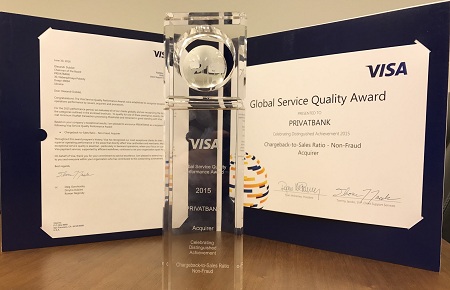 The international payment system Visa has acknowledged Ukrainian PrivatBank as one of the world's best banks for providing quality service to Visa cardholders.
PrivatBank won the award in the category Chargebank-to Sales Ratio-Non-Fraud Chargeback, Acquirer (the lowest share of doubtful and fraudulent transactions in the acquirer's turnover) within Visa's Global Service Quality Performance Awards Program.
"VISA recognises the most advanced world banks for their consistent efforts to ensure reliability and security of transactions," noted Tommy Jacobs, Head of Visa Global Customer Support, in the award's accompanying letter. "PrivatBank maintains market leadership by providing service of exceptional quality, especially in retail banking where effectiveness of work is an important factor to maintain customers' confidence in cashless payments."
Visa Service Quality Performance Award Program has existed for more than 20 years. Within the program Visa annually determines the best bank in each category and acknowledges financial institutions and processing companies all over the world for the high quality of services provided to Visa cardholders and trade-service enterprises. Visa Service Quality Performance Awards honours banks that lead by operational indicators including minimisation of fraud and high-quality work with customer claims.
PrivatBank Press Center
+380 92 716-08-81
press@privatbank.ua