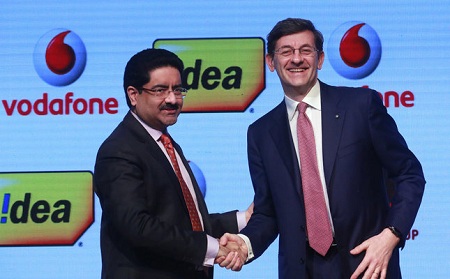 Vodafone to combine its subsidiary Vodafone India (excluding its 42% stake in Indus Towers) with Idea, which is listed on the Indian Stock Exchanges.Highly complementary combination will create India's largest telecoms operator1 with the country's widest mobile network and a strong commitment to deliver the Indian government's 'Digital India' vision. 
Key highlights
Sustained investment by the combined entity will accelerate the pan-India expansion of wireless broadband services using 4G/4G+/5G technologies, support the introduction of digital content and 'Internet of Things' (IoT) services as well as expand financial inclusion through mobile money services for the benefit of Indian consumers, businesses and society as a whole.
Merger of equals with joint control of the combined company between Vodafone and the Aditya Birla Group, governed by a shareholders' agreement.
The merger ratio is consistent with recommendations from the joint independent valuers. The implied enterprise value is INR828 billion (US$12.4 billion) for Vodafone India and INR722 billion (US$10.8 billion) for Idea excluding its stake in Indus Towers, valuing Vodafone India at 6.4x EV/LTM EBITDA and Idea excluding its stake in Indus Towers at 6.3x EV/LTM EBITDA2.
Substantial cost and capex synergies with an estimated net present value of approximately INR670 billion (US$10.0 billion) after integration costs and spectrum liberalisation payments, with estimated run-rate savings of INR140 billion (US$2.1 billion) on an annual basis by the fourth full year post completion3.
Vodafone will own 45.1% of the combined company after transferring a stake of 9% to the Aditya Birla Group for circa INR39 billion (circa US$579 million) in cash concurrent with completion of the merger. The Aditya Birla Group will then own 26.0% and has the right to acquire more shares from Vodafone under an agreed mechanism with a view to equalising the shareholdings over time.
If Vodafone and the Aditya Birla Group's shareholdings in the combined company are not equal after four years, Vodafone will sell down shares in the combined company to equalise its shareholding to that of the Aditya Birla Group over the following five-year period.
Until equalisation is achieved, the voting rights of the additional shares held by Vodafone will be restricted and votes will be exercised jointly under the terms of the shareholders' agreement.
Vodafone India will be deconsolidated by Vodafone on announcement and reported as a joint venture post-closing, reducing Vodafone Group net debt by approximately INR552 billion (US$8.2 billion) and lowering Vodafone Group leverage by around 0.3x Net Debt/EBITDA4. The transaction is expected to be accretive to Vodafone's cash flow5 from the first full year post-completion.
The transaction is expected to close during calendar year 2018, subject to customary approvals.
Aditya Birla Group Chairman, Kumar Mangalam Birla, said:
"Throughout its history, the Aditya Birla Group has been synonymous with the task of nation building and driving inclusive growth in the country. This landmark combination will enable the Aditya Birla Group to create a high quality digital infrastructure that will transition the Indian population towards a digital lifestyle and make the Government's Digital India vision a reality. For Idea shareholders and lenders who have supported us thus far, this transaction is highly accretive, and Idea and Vodafone will together create a very valuable company given our complementary strengths."
Vodafone Group Plc Chief Executive, Vittorio Colao said:
"The combination of Vodafone India and Idea will create a new champion of Digital India founded with a long-term commitment and vision to bring world-class 4G networks to villages, towns and cities across India. The combined company will have the scale required to ensure sustainable consumer choice in a competitive market and to expand new technologies – such as mobile money services – that have the potential to transform daily life for every Indian. We look forward to working with the Aditya Birla Group to create value for all stakeholders."