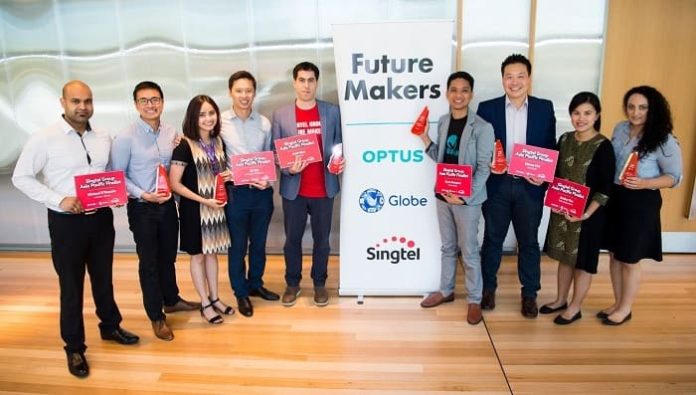 Six of the most promising social impact start-ups across Singapore, Australia and the Philippines emerged as the winners of social innovation programme, Singtel Group Asia Pacific Future Makers 2017.
Now in its second year, the Future Makers programme attracted over 250 applications from enterprising organisations and individuals which are making innovative use of technology to address community needs. Out of these, 19 teams were chosen for the local level and had the opportunity to work closely with experts from Singtel, Optus, Globe and the industry over a period of four months.
They received intensive capacity building, mentoring and local grants of S$500,000 to help them grow their organisational capabilities and refine their business models. Six teams – Hapticus, iVolunteer, Learner Library, sameview, Solve Education! and Virtualahan – were then selected for the regional finals.
Mr Andrew Buay, Vice President of Group Sustainability, Singtel, said, "We recognise that it can be challenging for social start-ups to thrive as sustainable businesses and deliver social impact at the same time. Through the Future Makers programme, we hope to nurture a vibrant social innovation ecosystem in the region by providing mentorship, networking and access to impact funding."
"We're impressed by the calibre of the start-ups, and the diversity and quality of business ideas this year. The six winning teams, in particular, stood out for the viability and scalability of their solutions regionally and the progress they made over the past four months. We look forward to the positive changes they will spark as they accelerate their regionalisation plans," he added.
Ms Yoly Crisanto, Globe Senior Vice President for Corporate Communications and Chief Sustainability Officer, said, "We recognise the important role technology plays in addressing many social issues, so it's heartening to see a lot of start-ups use innovation to become change makers. These are all very noteworthy endeavours and we admire the creativity of these groups and individuals in helping to create the change we envisioned in dealing with social ills."
The six winners took part in a three-day programme in Sydney, Australia hosted by Singtel. As part of the programme, they attended the Impact Investment Summit Asia Pacific, and a workshop conducted by Optus and World Vision Australia. This gave them valuable insights on impact investing which is helping to finance solutions to many of society's pressing challenges, and how to scale their solutions regionally.
They also had the opportunity to pitch to a panel of global impact investors to score an additional S$100,000 in funding from the Singtel Group, which will help them expand regionally for wider community impact.
Mr Michael D'Rosario of Learner Library, an Australian subscription textbook service, said, "The Future Makers programme has enabled us to get to the next level. Our strategy is clearer, our product is stronger. We've developed some incredible connections and had amazing opportunities that would not have been possible without it. With the support provided, we will be able to dramatically increase our social impact in the Philippines and India."
Mr Amir Nivy of Hapticus, a Singapore-based start-up that develops mobility solutions to help people with disabilities to use transportation, said, "We had a great opportunity to collaborate with Singtel's partners, the Movement for the Intellectually Disabled Singapore and SMRT through the Future Makers programme. The challenge we were given to develop technology to promote independent travel for the intellectually disabled has helped us better understand and refine our business proposition. With the learnings from both the local and regional rounds, we are ready to scale to the region."
Mr Ryan Gersava of Virtualahan, a Philippine social enterprise which helps train persons with disabilities and match them with work opportunities, said, "Understanding the different verticals in impact investment gave us very helpful insights on the right approach to prepare our social enterprise for investment and scale our impact. We plan to bring the Virtualahan model to address youth unemployment among the Maori community by launching our pilot in New Zealand in partnership with the Northland Innovations Centre."