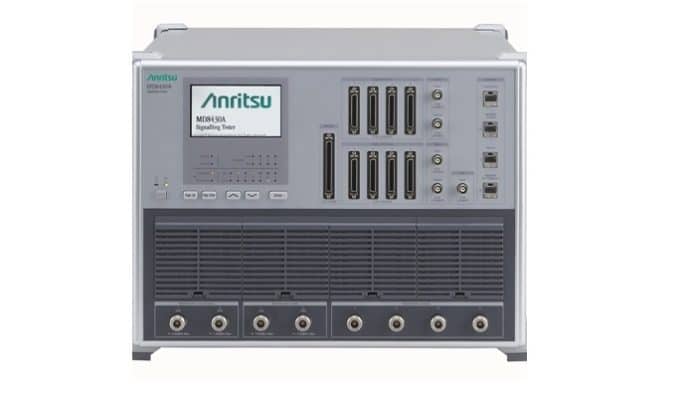 Huawei Technologies Co., Ltd, a leading global information and communications technology (ICT) solutions provider has successfully demonstrated downlink 1.2 Gbps stable IP data throughput using Anritsu's (www.anritsu.com) Rapid Test Designer (RTD) and MD8430A Signaling Tester test solution for LTE-A Pro.
Using a combination of three downlink Carrier Aggregation, 4×4 MIMO and 256 QAM modulation scheme Huawei was able to demonstrate market leading downlink 1.2 Gbps stable IP data throughput capability of its latest LTE-A smartphone technology.
With ever increasing market demand to increase both downlink and uplink data rates to support more and more data intensive mobile internet based applications this is the latest step to extend Gigabit LTE capability beyond 1 Gbps towards 2 Gbps.
Huawei has become an industry leader in the evolution of LTE-A Pro technology, delivering highly innovative smartphone technology. Its latest Kirin 970 mobile artificial intelligence SoC platform powers Huawei's latest Mate 10 PRO smartphone includes a state-of-the-art 1.2 Gbps Cat 18 modem and an innovative new AI mobile computing architecture enabling broader use of AI technology in mobile applications.
Anritsu's RTD/MD8430A LTE-A Pro solution enables more efficient testing of leading edge technologies and faster than any other solution. Its highly flexible configuration enables three, four and five carrier aggregation in combination with 2×2, 4×2, 4×4 or 8×4 MIMO and 256 QAM modulation in the downlink to achieve this latest 1.2 Gbps LTE Category 18 capability and above. RTD/MD8430A capability extends further still to support other key LTE-A Pro technologies including License Assisted Access (LAA) by aggregating carriers in the licensed and unlicensed (<5 GHz) bands. Support for two and three carrier aggregation in the uplink enables RTD/MD8430A to simulate the highest data rates demanded by the next generation of smartphones is also supported.
The Huawei engineers were able to create 1.2 Gbps test scenarios using RTD's unique flowchart based integrated design environment (IDE) to drive the execution of the test simulation on an Anritsu MD8430A LTE-A Pro signalling tester.
"Anritsu is delighted that Huawei, one of the world's largest mobile cellular manufacturers, continues to rely on Anritsu's RTD/MD8430A for verifying the implementation of leading edge capability in its devices", stated Tsutomu Tokuke, General Manager at Anritsu. "Huawei's demonstration shows how Anritsu's RTD/MD8430A delivers leading technologies helping LTE device makers to reduce their product launch times – a critical success factor in this intensely competitive market".
"We have found that Anritsu delivers ideal test solutions for leading edge technology when we need them most", said by Huawei Technologies. "Anritsu's RTD solution helps us to quickly evolve our implementation and is a major contributor to our leading position in the LTE device market", added.
About Anritsu
Anritsu Corporation has been a provider of innovative communications solutions for more than 120 years. The company's test and measurement solutions include wireless, optical, microwave/RF and digital instruments, operations support systems and solutions that can be used during R&D, manufacturing, installation, and maintenance. Anritsu also provides precision microwave/RF components, optical devices, and high-speed devices for design into communication products and systems. With the addition of OSS monitoring solutions it has expanded its offering to provide complete solutions for existing and next-generation wireline and wireless communication systems and service providers. Anritsu sells in over 90 countries worldwide with approximately 4,000 employees.
About Huawei Technologies
Huawei is a leading global information and communications technology (ICT) solutions provider. Our aim is to enrich life and improve efficiency through a better connected world, acting as a responsible corporate citizen, innovative enabler for the information society, and collaborative contributor to the industry. Driven by customer-centric innovation and open partnerships, Huawei has established an end-to-end ICT solutions portfolio that gives customers competitive advantages in telecom and enterprise networks, devices and cloud computing. Huawei's 180,000 employees worldwide are committed to creating maximum value for telecom operators, enterprises and consumers. Our innovative ICT solutions, products and services are used in more than 170 countries and regions, serving over one-third of the world's population. Founded in 1987, Huawei is a private company fully owned by its employees.