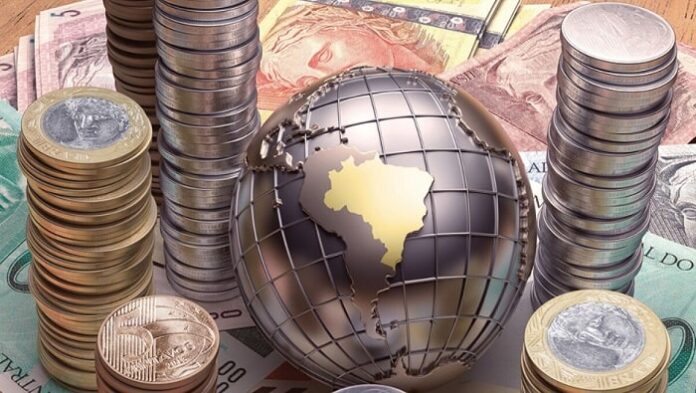 Brazil's biggest lenders are getting behind the country's central bank as it prepares to launch a digital version of the nation's currency.
Itau Unibanco, BTG Pactual and Santander Brasil are all ramping up headcount and adding resources in preparation of the nationwide rollout of the digital Brazilian real, called the Drex. The accompanying blockchain platform will boost the market for digital assets in Latin America's largest economy, the banks say.
The Drex marks the latest embrace of digital assets by central bank chief Roberto Campos Neto, who has backed the technology even as many of his peers have cracked down on it. Since taking the bank's top job in 2019, he has argued that blockchain helps the financial system and that the technology is here to stay.
So-called distributed ledger technologies — typically used for cryptocurrencies — are already being experimented with in various parts of the financial industry. The Drex platform, both created and regulated by the central bank, will use the technology to create a new system where financial instruments — from stocks to bonds — can be "tokenized," or represented digitally.
The process will allow assets to be transferred via digital transactions, which will be settled in the Drex platform by banks and other agents authorized by the monetary authority, according to a spokesperson at the central bank. The Drex platform itself does not provide users with digital tokens, but offers an environment where they can be developed, the central bank wrote in a response to questions.
Retail Clients
For banks, the push to line up behind the launch of the Drex adds to their move toward digitization as a new revenue stream.
Itau, which reports third-quarter earnings next week, this year launched a product that provides custody for its own digital assets with plans to expand it to retail clients. About 85% of its clients that trade crypto are interested in keeping their assets at the bank, said José Augusto Antunes Filho, head of digital assets at Itau, in an interview.
"Brazil's central bank has realized that there is a new investor, who is native to the digital market. There is a socio-generational change taking place, and banks need to be ready for it," Antunes said.
Itau is expected to post a rise in profits with adjusted net income of roughly 8.9 billion reais for the quarter when earnings are released Nov. 6, according to the median estimate of analyst tracked by Bloomberg.
Regulation Boost
The launch of Drex comes as Singapore, the US and the European Union have sought to introduce stricter regulations on tokenized assets.
Brazilian regulators, by contrast, have loosened rules. The country's securities exchange commission passed a bill allowing hedge funds to invest as much as 10% of their assets under management in digital coins, effective October 2.
Prior to the change, Brazil's investment funds couldn't directly invest in cryptocurrencies because they weren't classified as financial assets.
Against this backdrop, Itau — Latin America's largest bank by market value — has boosted its digital assets team to 66 from 10 in the last two years under Antunes. After joining the bank as head of the digital assets team last year, he assumed leadership a Drex-dedicated team.
At BTG, Andre Portilho, head of digital assets, said over the past year the bank launched its own crypto-trading platform, Mynt. It has 30 members and plans to expand.
"All areas will have to be ready to implement this infrastructure in the bank's operations," he said.
Santander established a team dedicated to digital assets and blockchain technology this year, said Jayme Chataque, senior head of the division. Chataque declined to disclose its headcount.
Drex is expected to roll out in 2024, with a pilot program set to end in May. The central bank plans to test the digital currency with the population by the end of 2024.
"The potential impact is widespread in the bank, because it can drive not only new products, but change existing ones," said Chataque.
Brazil has the advantage of a population that ranks high in crypto adoption. The country has seen a 30-fold increase in the number of people trading crypto since 2020, according to the Brazilian Tax Authority.
Central Bank Efforts
There have also been efforts by other countries to roll-out central bank-backed digital currencies.
Last month, Europe's central bank said it's evaluating multiple use cases and technical options for a possible digital euro — a project that has raised questions around how its payments and settlements infrastructure can be modernized.
Attempts across the globe to roll out central bank-backed digital currencies have faced challenges. From the Caribbean to Nigeria, policymakers have struggled to win their adoption.
In Brazil, meanwhile, banks remain bullish. Santander plans to stay "heavily engaged" with the country's central bank innovation agenda, said Chataque.
"The central bank is bringing all players together to discuss and engage on how to integrate digital assets with the existing financial industry, and this adds clarity and security,."