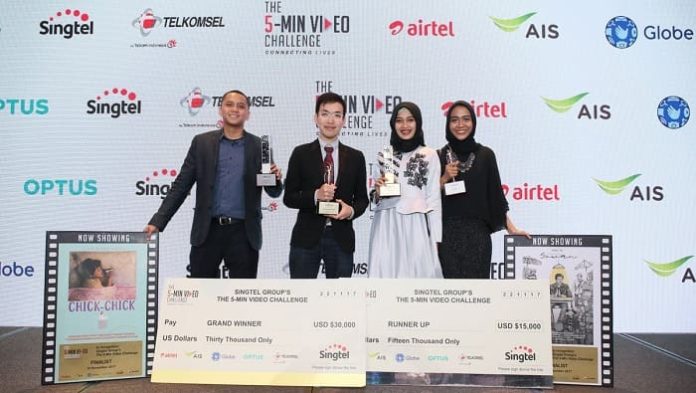 "Sarah", a heartrending film of lost intercultural love, written and directed by Mr Don Aravind and produced by Mr Nicholas Chee won the Singapore leg of Singtel Group's "The 5-Min Video Challenge", Season 2. Runner-up "The Red Packet", directed by Mr Sufyan Sam'an and produced by Ms Chng Ying Tong, will join "Sarah" and other finalists from Asia, Australia and Africa to vie for the Grand Winner trophy and prize money at the Regional Finals to be held in Singapore on 22 November.
With more than 50 videos submitted by career filmmakers and novices, the judging panel which included industry bigwigs, Mr Boo Junfeng, Mr Eric Khoo and Ms Kirsten Tan, had a challenging selection process. "With a broad theme like "Connecting Lives", it was a joy to watch the many possible interpretations that ended up in our submission folders," said Ms Tan.
The panel, which also comprised Singtel executives, Mr Goh Seow Eng and Ms Lian Pek, awarded top prize and S$15,000 to "Sarah", a uniquely Singaporean narrative of an untimely demise of loved one. The film follows Karthik, a non-Muslim Indian man, through Hari Raya festivities, to an unplanned encounter that unleashes a torrent of emotions long held back by abject grief, guilt and propriety. "We wanted to tell a simple story of love, loss and forgiveness. We thank the esteemed panel of judges and Singtel for the win and hope to share this story with more people!" said Mr Aravind and Mr Chee.
"The Red Packet", a celebration of Singapore's cultural diversity delivered with a poignant touch that too tugged at heartstrings, went home with S$10,000 and the runner-up spot. 'Inspired by the story of Sufyan's grandmother, "The Red Packet" is a story about intercultural relationships which is very under-explored in Singapore. It is a massive honour to be picked as one of the winning films and we hope our work will inspire more of such stories," said Ms Chng and Mr Sam'an.
"Sarah" and "The Red Packet", can be viewed on the official 5-Min Video Challenge website, Singtel TV and Singtel's YouTube Channel.
The 5-Min Video Challenge – Audience voting
Conceptualised to drive content innovation and engage audiences across Singtel's markets, "The 5-Min Video Challenge" is a joint initiative by Singtel, its unit Optus and Group associates comprising AIS, Airtel, Globe and Telkomsel.
The Challenge garnered hundreds of entries from Australia, Gabon, Indonesia, the Philippines, Singapore, and Thailand. The videos, submitted by a demographic of students, aspiring filmmakers and award-winning directors, featured various languages and a gamut of genres, ranging from comedy, romance to drama and slice of life.
Local judges were tasked to choose a winner and runner-up from the submissions. Twelve finalists – two from each of the six countries – will be competing in the Regional Finals.
These finalists, as well as regional judges, Mr Aaron Lea (Australia), Mr Joko Anwar (Indonesia), Mr Quark Henares (the Philippines), Mr Eric Khoo (Singapore) and Mr Thitipong Kerdtongtawee (Thailand) will gather in Singapore for the final judging session and awards event.
At the Regional Finals, the Grand Winner will be conferred cash prize of US$30,000 and a Sony-sponsored α7S II E-mount Camera with Full-Frame Sensor & FE PZ 28-135mm F4 G OSS Lens, worth more than US$5,000; and the Runner-up will receive cash prize of US$15,000 and Sony-sponsored Sony's α6500 Premium E-mount APS-C Camera & E PZ 18-110mm F4 G OSS Lens, worth more than US$4,000.
In addition to these top honours, regional finalists are also in the running for the newly-created Sony's Emerging Talent Award. One film, selected by Sony for outstanding technical skills and inspirational story-telling, stands to walk away with prizes worth over US$5,000.
All regional finalists will have the opportunity to promote their videos on each Singtel Group member's mobile and video platforms, allowing them to reach a 670-million strong audience across Asia, Australia, and Africa.