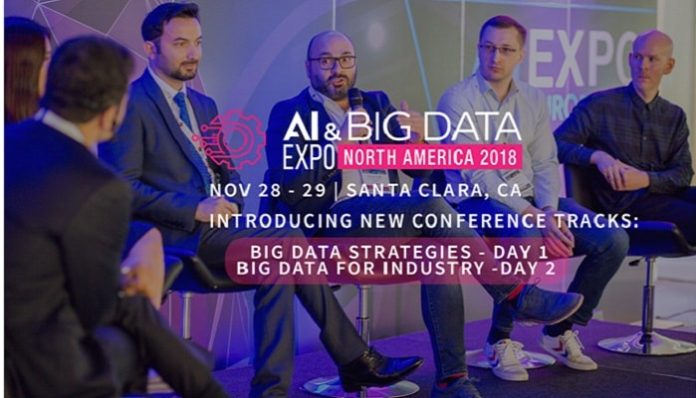 The AI Expo North America is set to return to Silicon Valley for the second time, but under a new name and introducing a new brand: The AI & Big Data Expo North America, with an aim to reflect the important role that Big Data will play in the future of Artificial Intelligence.
The exhibition and conference will be co-located with the leading IoT Tech Expo, the largest Blockchain Expo and the newly introduced Cyber Security and Cloud Expo enabling attendees to network and learn about the convergence of all of these technologies, be it in the exhibition hall of 350+ exhibitors or within the 24conference tracks across the two-day event. Over 13,000 attendees are expected across the four shows and a total of 500+ speakers will be in attendance.
The AI & Big Data Expo North America has launched two brand new conference tracks this week surrounding the overarching theme of Big Data. These include: Big Data Strategies (Day 1 – 28th November) and Big Data for Industry (Day 2 – 29th November). Attendees can expect to hear how Big Data can bring out real business value from in real-life case studies whilst learning how data can enrich enterprise AI techniques.
The two new conference tracks will complement the well-established four conference tracks, with a total of 6 to choose from over the two-day AI & Big Data event, these include:
Paid pass holders can attend all of the 6 conference tracks above, while free attendees will only have access to the two free AI& Big Data tracks above. All paid and free pass holders will be able to access the co-located exhibition and the 10open conference tracks across the whole event if they wish to delve deeper into the AI, Big Data, IoT, Blockchain, Cloud & Cyber Security industries. Paid pass holder will also have access to an exclusive networking app, a VIP delegate lounge at the show, conference recordings & presentations post event and an evening of networking on the 28th November, details to be released soon.
Early bird rate ends Friday 17th August so if you are looking for full conference and networking access, you can save up to $450 on your conference and networking pass (Expo Plus/Gold/Ultimate) when you book by midnight GMT on the 17th August.Free passes are also available, which include access to a total of 10 open conference tracks across the 4 co-located shows. These include:
Data analytics for AI & IoT (Day 1)
Developing AI Technologies (Day 2)
IoT Innovations & Technologies (Day 1)
Smart Buildings & Infrastructure (Day 2)
Blockchain Technologies (Day 2)
Blockchain for Business (Day 1 & Day 2)
Investors, Start Up & Crypto Zone (Day 1) – NEW for 2018!
Developing for the IoT (Day 1)
Cyber Security & Cloud (Day 2)
Click here to register for your free or paid pass to theNorth America event on the 28-29th November in the heart of the Silicon Valley, Santa Clara, CA.
If you can't make North America, then find out more about the World Series below:
World Series 2018-2019:
AI & Big Data Expo North America – 28-29th November 2018, Santa Clara, Silicon Valley
AI & Big Data Expo Global – 25-26th April 2019, The Grand, Olympia, London
AI & Big Data Expo Europe – 19-20th June 2019, RAI, Amsterdam
About AI& Big Data Expo
The AI& Big Data Expo World Series (https://www.ai-expo.net/) hosts top level content and discussion, introducing and exploring the latest innovations and strategies in the AI & Big Data arena. It brings together top brands and key industries including Enterprise, Consumer,Marketing, Automotive, HR & Recruitment, Finance, Insurance, Government, Public Sector, Retail, Industrial, Healthcare, Education, Cyber Security and Developer platforms.