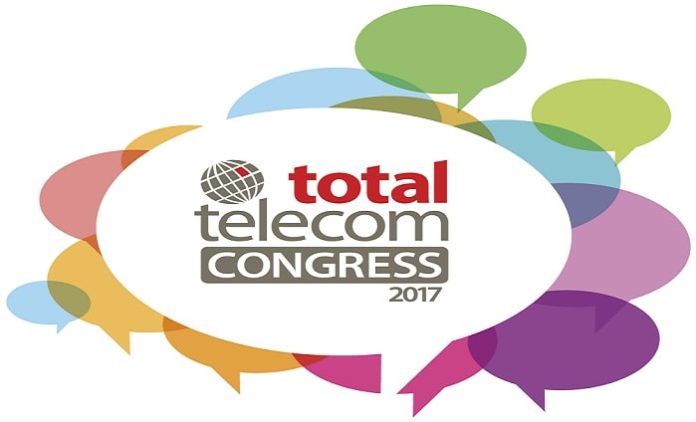 Breaking down the silos within the carrier environment to develop new business models and strategies is going to be critical for organisations to evolve in the digital economy. This will be a key focus at this month's Total Telecom Congress at the Hilton Canary Wharf Hotel, in London.
Taking place from Tuesday, October 31 to Wednesday November 1, the Congress will see a packed agenda delivered, with delegates covering virtually the entire telecoms industry in 18 topic areas, from 5G and Network Functions Virtualisation (NFV) to security and smart cities.
"Feedback from last year was tremendous and delegates particularly appreciated the way that key strategic issues were covered," said Total Telecom Managing Director Rob Chambers. "There was also a quality attendee list and we have concentrated on this initial success to build the Congress into a must-attend event for all senior and strategic telco executives."
The congress, now in its second year, will feature more than 120 speakers during the two days, including CEOs, CTOs and other senior figures from organisations including Telkomsel, Colt, Telia, Verizon, Orange, Telefonica, BT, Turk Telecom, CITIC Telecom CPC and Zain. Their experiences and vision for the future will be strengthened by presentations from Microsoft, the GSMA, the Wireless Broadband Alliance and many others.
The opening day starts with a session on Digital Transformation and an opening address from Bruno Jacobfeuerborn, the Chief Technology Officer for Deutsche Telekom. There will then be a keynote panel discussing the key issues telcos face in delivering digital transformation. This will cover the role of NFV and Software Defined Networking (SDN), how to build agile, intelligent and responsive networks, cross sector digitalisation and managing legacy equipment. Other subjects on Day One include finance and investment, 5G, Data, Regulation, Virtualisation, Edge Cloud and the Internet of Things (IoT).
Speakers from Telkomsel, Zain and Nokia will kick-off a strong second day, with a focus on subjects such as Smart Cities, Content, Security, Artificial Intelligence, Access, the Connected Car and Augmented Reality/Virtual Reality.
For more information visit the Total Telecom Congress website: totaltele.com/congress.
About Total Telecom
Total Telecom provides insightful knowledge in the form of interviews, event coverage, breaking news and case studies to a global audience of telecom professionals. It meets the information and research needs of the Global Communications industry, from breaking news to expert analysis. It is the leading communications link between end users and the vendors, carriers and resellers of telecommunications technology and services.
For further information please contact:
Rob Chambers
Managing Director
Total Telecom
rob.chambers@totaltele.com
+44 (0) 20 7608 7076