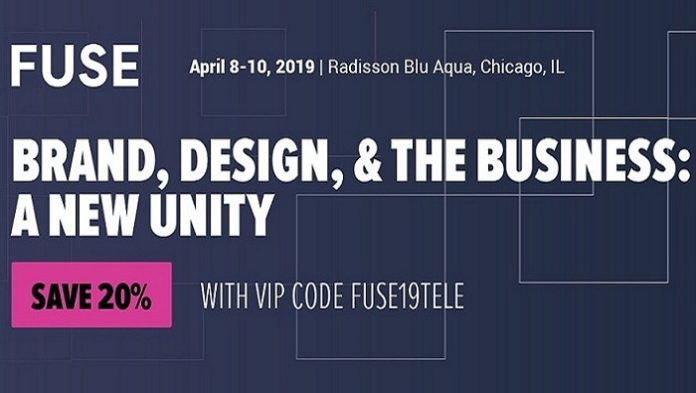 The FUSE conference will be held April 8-10, 2019 at the Radisson Blu Aqua in Chicago, IL. FUSE is the marquis platform for creating powerful dialogue between business and creative leaders around brand and design's intent, investment, and impact.
The 2019 program was curated by industry insider, Julie Anixter, Former Executive Director, AIGA and the speaker lineup speakers represent a diverse group of creatives, brand experts, and business leaders. This lineup includes Todd Waterbury, Chief Creative Officer at Target, Sandi Petersen, Former Chairman of Johnson & Johnson, Henry Hongmin Kim, Group Director, North American Design at The Coca-Cola Company 2016-2018, and Judith Michelle Williams, Head of People Sustainability and Chief Diversity & Inclusion Officer at SAP.
Additions to this year's program include keynote roundups each day where you talk with speakers about how their topics can be applied to your business, four intensive master classes for you to brush up on skills to make your brand and design leadership the most effective, as well as track panel dialogues where you can focus the learnings of each track.
FUSE is an event with purpose; deeply rooted in hearing from and giving back to the Chicago community; from Chicago Public HS Students, to local Chicago design chapters. Also, we are celebrating the 100th anniversary of the Bauhaus, which set the standard for Intentional use of design for the broader population through industry.
For more information and to register to attend, click here
About KNect365
Informa's Knowledge & Networking Division, which operates as KNect 365, is the world's largest conference provider. It connects communities through to face and online events as well as digital services, enabling specialist groups to connect, network and share insights and learning.
The KNect365 portfolio of training, learning, conference, advisory and congress events is centered around communities in key industry verticals, including finance, life sciences, and technology, providing the highest-quality content and thought leadership alongside platforms for connecting and collaborating, giving our customers real advantage.